Consider this "early access".
I'm working on a UI based on technologies familiar to folks working with web development. In CSS, there is a layout concept called "flexbox". It is a powerful way to layout elements (boxes of content) horizontally or vertically, and have controllable rules on how to distribute spacing between elements, shrinking & growing elements when needed, and is great for making layouts responsive (i.e. adaptable to different screen sizes).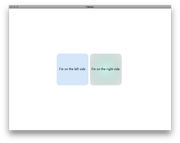 Currently, it may not look too high-tech, as I have just begun on getting the fundamental pieces in place. What you can do now:
* Make squares and rounded boxes
* Coloring
* Render text
* Do all this stuff programmatically without any media resources
What it
currently lacks
(but may be in development soon):
* Ready-made widgets like lists, tabs, check boxes
* Animations and state changes
* No mouse/keyboard input concept
My initial aim with this library is not to make a complete widget & input system, but rather the tools and ease-of-use to make your own GUI that looks nice and works well with your project.
I wanted to share the project early, because I'm interested in feedback, opinions, suggestions, PRs.
Download, get an introduction & follow the project at
https://github.com/mimon/flexbox