Ogre Version:
2.1
Qt Version:
5.11
Operating System:
Linux
Render System:
GL3Plus
I have managed to integrate Ogre into a QWindow as suggested in the wiki:
http://wiki.ogre3d.org/tiki-index.php?p ... e+into+QT5
with some tweaks to make it work with Ogre 2.1 (Hlms mostly).
The problem is after passing the window id in the parameters of the render window ogre takes over and nothing can paint over it.
Something as simple as placing a button on top seems impossible, Qt no longer controls the order/depth.
Example: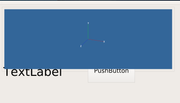 The label and button have both been "brought to front" and the Ogre Widget has been lowered.
I have tested two alternatives:
Use a QPainter to draw into a pixelbuffer and draw in Ogre, as in:
viewtopic.php?t=70171
. This method does not really do what I want nor did it really work. After using the pixelbuffer to create a datablock and then drawing it using an overlay 3D models were still drawn on top of it.
Use RTT as a rendertarget instead of a renderwindow and then let Qt draw the image (passing the pixelbuffer into a QImage). I used a method similar to:
http://wiki.ogre3d.org/Render+Target+to+QImage+%5BQT%5D
While this did have the effect I wanted for depth, instead I can no longer resize easily. Most posts about this have no replies or they are 10 years old. The best I found was this:
viewtopic.php?t=82701
It seems it just isn't really an intended use.
All I want to achieve is to have the widget rendering Ogre behave as any other widget, allowing me to place other widgets on top of it.
I'm more or less stuck, either trying to figure out how to make renderwindows play nice or how to dynamically resize a rendertexture. There are plenty of forum posts asking about how to resize a texture but none of them have led me to a solution unfortunately (I could not find one that was marked solved).
Has anyone had any success with this?
The next thing I plan on testing is sharing/separating glContexts between Qt and Ogre, other than that I have no leads.
tl;dr: Is there a way to let Qt "paint" other QWidgets etc. on top of a QWidget in which Ogre is rendering?