Ogre Version:
:1.12.8:
Operating System:
:macos 10.15.3:
XCODE Version:
:11.3.1:
Render System:
:GLES2: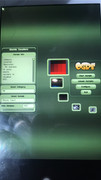 After building up Samplebrowser by Xcode and set up in my iphone, I can not control it.
Once I have using brew to install sdl2.

But Xcode always check function __builtin_ia32_emms(). I searched about it and result that it should be using in x86 system where my architecture is armv7.
And then I download SDL2-2.0.12 to build it by myself, but it gets error in CMAKE-gui.

What should I do next?
Thanks~