Ogre Version:
2.1
Operating System:
Ubuntu
Render System:
OpenGL
Hello!
I'm having an issue where to meshes that intersect have trouble deciding whats on top.
This picture should explain what the problem is: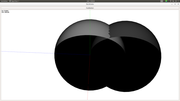 The intersection should be a smooth line, not look as if they are melting together.
I'll keep looking for the cause, but I'd appreciate any help that would speed up solving the issue.
Cheers!