Ok, this is probably an unusual request for this kind of board, and if such a request goes against the rules for this board, please close or delete the post.
I'm looking for help to reverse engineer the structure of a custom binary Ogre mesh format, namely for the game Rebel Galaxy Outlaw (and probably its predecessor Rebel Galaxy as well).
The lead programmer at one point mentioned that he could eventually release the custom exporter for 3dsmax, but he has since abandoned his job as a programmer and apparently never released any modding tools.
According to that post linked above the custom format contains both the mesh itself and the materials file, so I hope that eventually a simple split might be enough so that the Ogre tools will be able to read the binary format and do a successful conversation, which currently fails.
Here's a screenshot of the most simplest .mdl file I could find. I'm not sure if I'm allowed to post links to actual .mdl files here.

As you can see, the serializer string is "MeshSerializer_Runic", but changing it to e.g. MeshSerializer_v1.40 alone doesn't suffice. It also seems the materials data is prepended before the actual mesh file in binary form as well, so I'm hoping anyone might be easily recognize where the two data sets are joined, and therefore can be splitted.
The section I marked are probably the face indices in a 4 byte format, but I'm not sure (all the other mesh formats I've looked at have this in 2 byte). And the data following it are probably the vertices data. At least I get something when I use these values.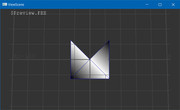 Ideally I hope that a simple split would be enough to make the mesh be recognized by Ogre's tools and that no further conversion would be required
[/code]