Ogre Version:
1.12.13
Operating System:
Debian Linux 11 and testing, also Windows 10
Render System:
OpenGL and OpenGL3Plus
Like I said in a previous post, I'm trying to revive an old simulator project of mine called Skyscraper, it runs on Ogre. I ported it from Ogre 1.9 to Ogre 1.12, but not 1.13 due to issues I'm having with that. The main issue I've been having is GL rendering on Linux appears to be broken, it looks like a bad or reversed depth buffer/zbuffer. I've tested Ogre versions 1.9 to 1.12 and they all have the same issue, but older builds of the simulator appear to work fine for some reason (those used Ogre 1.9). I've also tried manually changing depth buffer settings in a number of places, and they didn't seem to make a difference. I'm also running Ogre in double-precision mode, but that doesn't seem to be related to this. Both GL and GL3Plus are like this. I've also tried on a laptop which has Intel graphics, same issue, the main system I'm testing has an Nvidia Quadro. SInce I set up a debug environment with Eclipse on my system for this, I wondered what others on the forum would have to say about this issue, or maybe where to look in the Ogre code.
Here's are two screenshots of the default building's start position being rendered on two platforms. I also attached the simulator's log file, which includes the Ogre log messages.
This is the scene being rendered correctly on Windows using OpenGL: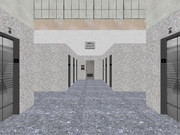 This is the scene being rendered incorrectly on Linux using OpenGL. The white streaks are the Caelum sky system being rendered in front of some wall objects.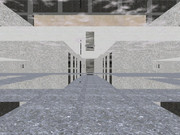 Let me know if I should open a bug report on the GitHub project page, I thought of posting on here first.
Project source code is here if you're interested: https://github.com/eventhorizon5/skyscraper
-eventhorizon