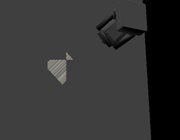 I'm seeking to use decals in a stage lighting simulation. I want to use the decal to draw a representation of a pool of light on the floor. I'm finding that the decal is failing to draw on certain tiles as I pan and tilt the light fixture around the floor.
In the image,you can see the rectangular decal fail to draw on some tiles. I'm using "floor_bump.png" and "floor_diffuse.png" as is done in the Sample_decals project for the decale.
What might I be doing wrong or need to adjust?