Hi, me again
So working through the texture memory management and i came across a bug or what i feel is a bug that when you resize the window, it recreates the depth buffers to keep correct resolution, however the older depth buffers never get cleared off, which ive seen through the dumpMemoryUsage(), if i do it enough ive ended up with 30+ depth buffers that are never removed..
Is this a bug, or just not done yet? Or is it something happening with my version only?
I know there are ground rules with changing it as some depth buffers are shared between textures and wouldn't want to knack that up.
Thoughts?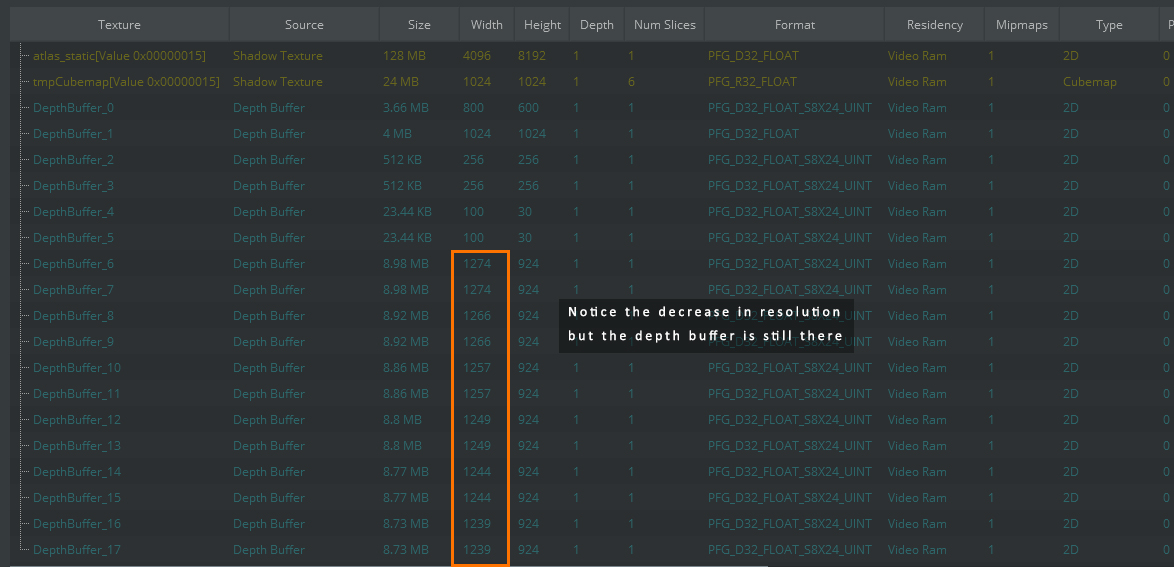 Just to note that the editor is an engine window that grabs data in a similar fashion to your dumpMemoryUsage() function but far more readable
Edit: The HDR Demo would be closest to mine for a test
Edit: I have managed to reproduce in the HDR sample, add an f5 key to output log, run demo > f5(baseline) / check log > resize window a few times > f5 - and look for DepthBuffer_ in the log list. And it will have the old depth buffers that are not running. When depthbuffers are 1080p, they hold quite a bit of space as you resize a window or an editor like ourselves.
Im looking at the code now trying to find the best way of handling it as the depth buffers have no association with the RTT that it was made from. Thus it would need some sort of storage variable to know that it could be deleted because it was linked with that RTT or windowTexture at the time, as its unlikely to be used or shared again. I know the depth buffers are stored in:
Edit 3: I cant test but from looking at the code, the stencil textures when notifyRecreated on the compositor pass is called also wont be deleted i think.