There's, in my opinion, a problem related to how OGRE handles specular IBL component in lighting. I believe the issue is present since the introduction of ibl_specular pass. With artists' help, I've tried to counteract/bypass it, but in characters' clothes is too much noticeable to simply ignore it.
Since images worth thousands words (Marmoset 3.x on the left, OGRE on the right):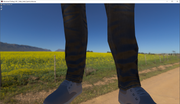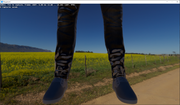 In the scene above there is neither ambient light not direct light. The lighting contribution is only provided by the reflection map.
Trousers' material uses metallic workflow, default_uncorrelated BRDF and has perceptual roughness enabled. Roughness value is 0.8 and metalness value is 0.0. Diffuse and normal maps are the ones here below: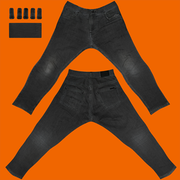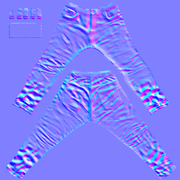 The "specular highlights" (pardon me, I don't know how to properly indicate them...) in the trousers are cleary introduced by the specular IBL component. Indeed, removing the Rs term from the final sum in @piece( BRDF_EnvMap ) makes them vanish:
Code: Select all
...

midf3 Rd = pixelData.envColourD * pixelData.diffuse.xyz * 3.141592654 * fresnelD;
midf3 Rs = pixelData.envColourS * pixelData.specular.xyz * ( fresnelS * envBRDF.x + envBRDF.y );

...

finalColour += Rd + Rs;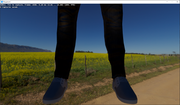 Assuming code of @piece( DeclareBRDF ) and @piece( BRDF_EnvMap ) is correct (I really hope so!), I'm wondering whether the issue isn't related to the brdfLUT map. According to this old post, it seems the brdfLUT map has been generated with an external tool.
Is the brdfLUT map generation code compatible with OGRE (and thus data embedded in that map coherent with what OGRE is expecting)? E.g.: the generation algorithm takes roughness values in input; does it make some difference whether perceptual roughness is enabled?

Is 64x64 an enough size for the map? If I have correctly understood the algorithm, it means that both NdotV and roughness can assume "only" 64 possible values (discretization step 0.015625; probably enough for roughness, don't know for NdotV)

Are 16 bits an enough precision for the map? I believe so, but I've also seen tools exporting with 32 bit precision.