Well, I know this topic comes back many times.
Let me explain the situation.
With Kuranes help, I've(much Kuranes than me in fact) finally succeded to disable shadow casting from PagingLandscape Terrain.
With stencil shadow, no more errors(see here to see wat were the errors
http://www.ogre3d.org/phpBB2/viewtopic. ... &start=325
).
So without those errors, I'm sure the terrain doesn't cast shadows.
Here is the result with stencil shadows.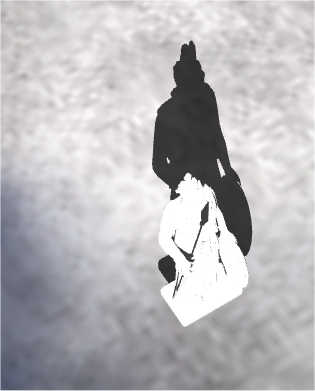 So now, let try with texture shadows.
Scene condition: the light is a spotlight, oriented to the object position, and positionned just under the camera.
On this pic, you can see the athena shadow.
But there is a black surface on it.
In this third pic, there is a very strange shadow. It is located just under the athena mesh.
Any idea for where it comes(black surface and "arrow" shadow)?