Orge Version: 1.11
Operating System: Manjaro Linux.
I followed the tutorial how to build and install the orge3D in my system. But i am getting the error OrgeConfig.h this error is produced while i typed make as can be seen from the following image.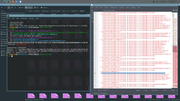 As seen from the image there is some header file missing named OrgeConfig.h but the header file is present in the directory. In tutorial installation was successful but i ended up with this error.