The alpha demo of my tree generation code is just released (Win32 exe).
I haven't included the source code yet as it requires some cleaning. It will come soon.
http://www.goutte-d-eau.org/sputnick/og ... e_Demo.zip
You will need a 32bits HardwareBuffer capable graphic card with at least 64Mb to display the most complex tree definition (32Mb is enough for some simple trees).
I did not have time finally to work on a full GUI include all the main parameters of the code, so the interface is very basic and is fully Ogre based. More complex GUI will come when CEGUI 1.0 will be released.
Use the arrow keys to orbit the camera around the tree and Pg_Up / Pg_Dn to zoom in/out.
1 to 6 let you choose between 6 tree definitions.
Changing "Seed" or "Leaves Alpha" requires regenerating the tree (hit the corresponding [1-6] key to validate your settings).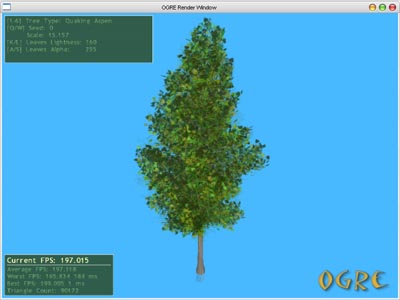 So, the next big step will be to generate texture map based on the complex geometry to rebuild simple tree meshes with LOD.
- Sput