Hello, I'm porting Ogre1 code to Ogre2, and Ogre2 seems to have a bug where scene nodes are placed not exactly, but with some margin of error. Huge seams are visible between the map objects, but only in ogre2 - physics engine displays objects being placed exactly, and ogre1 too had placed them flawlessly in that regard.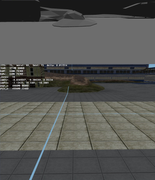 I've noticed that seams between the objects are repeating every 312.0 units, so the placement error is consistent and depends on distance, if that helps debugging the problem.
My first though was something regarding float precision, but this can't be a concern in such short distances less than 1000 units away from the origin, not to mention ogre1 and physics engine don't suffer from it, unless Ogre2 scene nodes use 16bit floats or something?..